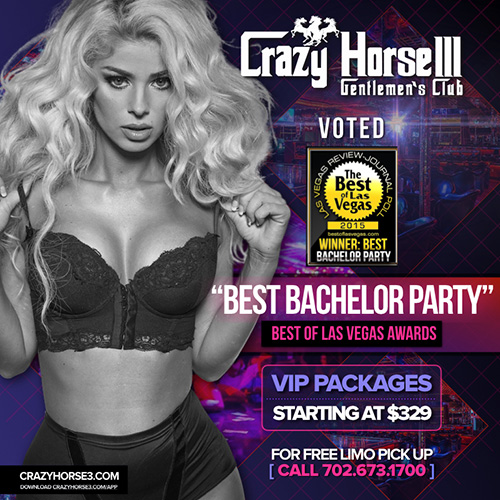 Crazy Horse III is the Las Vegas hot spot for bachelor parties. Voted Best Bachelor Party in the 2015 Best of Las Vegas awards, CH3 delivers the experience of a lifetime. Let us set the groom up with a sendoff that he won't soon forget.
BACHELOR PARTY
FEATURED CRAZY DEAL
$649
Premium Transportation to CH3
VIP Front of Line Entry ($80 Value)
No Admission Charge ($40 Value Each)
Main Room Seating
2 Call Brand Bottle with Choice Mixers ($800 Value)
Bottle selection includes Skyy Vodka, Absolut Vodka, Seagram's 7 Whiskey, Maestro Dobel Tequila, Johnnie Walker Red, Bacardi Rum, Hendrick's Gin, Freixenet Champagne
I agree that I am 21 years or older.
LAS VEGAS STRIP CLUBS | ©2017 CRAZY HORSE III.