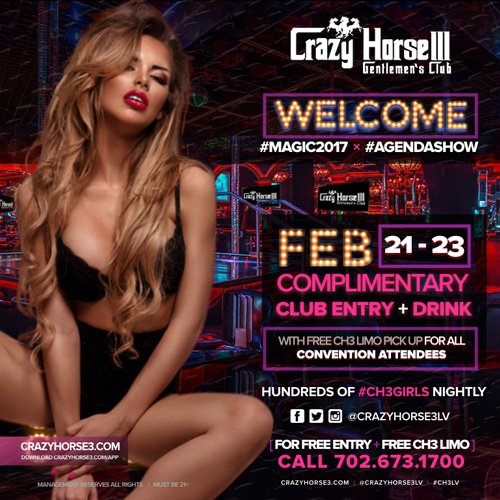 CH3 welcomes #MAGIC2017. Come party with us after the show on February 21 to 23. All show badge holders get complimentary club entry and a drink with free CH3 limo pick up when you call 702.673.1700 or book your package online and save now. Hundreds of #CH3GIRLS nightly. Get ready for 3 days of Crazy After Parties!
#MAGIC2017
#AGENDASHOW
$50
Premium Transportation to CH3
VIP Front of Line Entry ($40 Value)
No Admission Charge ($40 Value)
Main Room Seating
$60 Beverage Voucher
I agree that I am 21 years or older.
LAS VEGAS STRIP CLUBS | ©2017 CRAZY HORSE III.