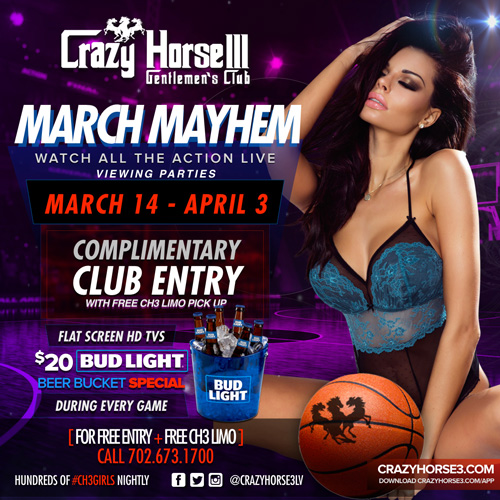 March Mayhem is on at Crazy Horse III. It's much more fun to watch all of the games surrounded by the hottest girls in Vegas. Viewing parties from March 14 to April 3. Complimentary club entry with free CH3 limo pick up when you call 702.673.1700 or book your package online and save now. Plus enjoy Bud Light specials. Go a little Crazy during March Mayhem.
Premium Transportation to CH3
VIP Front of Line Entry ($40 Value)
No Admission Charge ($40 Value)
Main Room Seating
$60 Beverage Voucher
I agree that I am 21 years or older.
LAS VEGAS STRIP CLUBS | ©2017 CRAZY HORSE III.