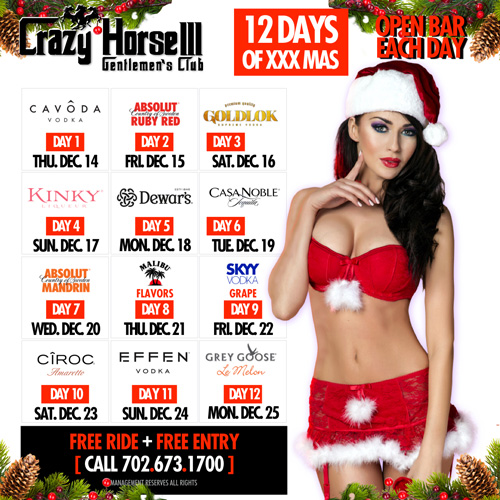 It's the annual 12 Days of XXX-Mas at CH3. Celebrate with our open bar each day sponsored by: Thu Dec 14 Cavoda Vodka; Fri Dec 15 Absolut Ruby Red; Sat Dec 16 Goldlok Supreme Vodka; Sun Dec 17 Kinky Liqueur; Mon Dec 18 Dewar's; Tue Dec 19 Casa Noble Tequila; Wed Dec 20 Absolut Mandrin; Thu Dec 21 Malibu Flavors; Fri Dec 22 Skyy Vodka Grape; Sat Dec 23 Ciroc Amaretto; Sun Dec 24 Effen Vodka; Mon Dec 25 Grey Goose Le Melon. At CH3 we think naughty is nice!
12 Days of XXXMas
Celebration
Promotions cannot be combined with any other offers. Management reserves all rights.



I agree that I am 21 years or older.