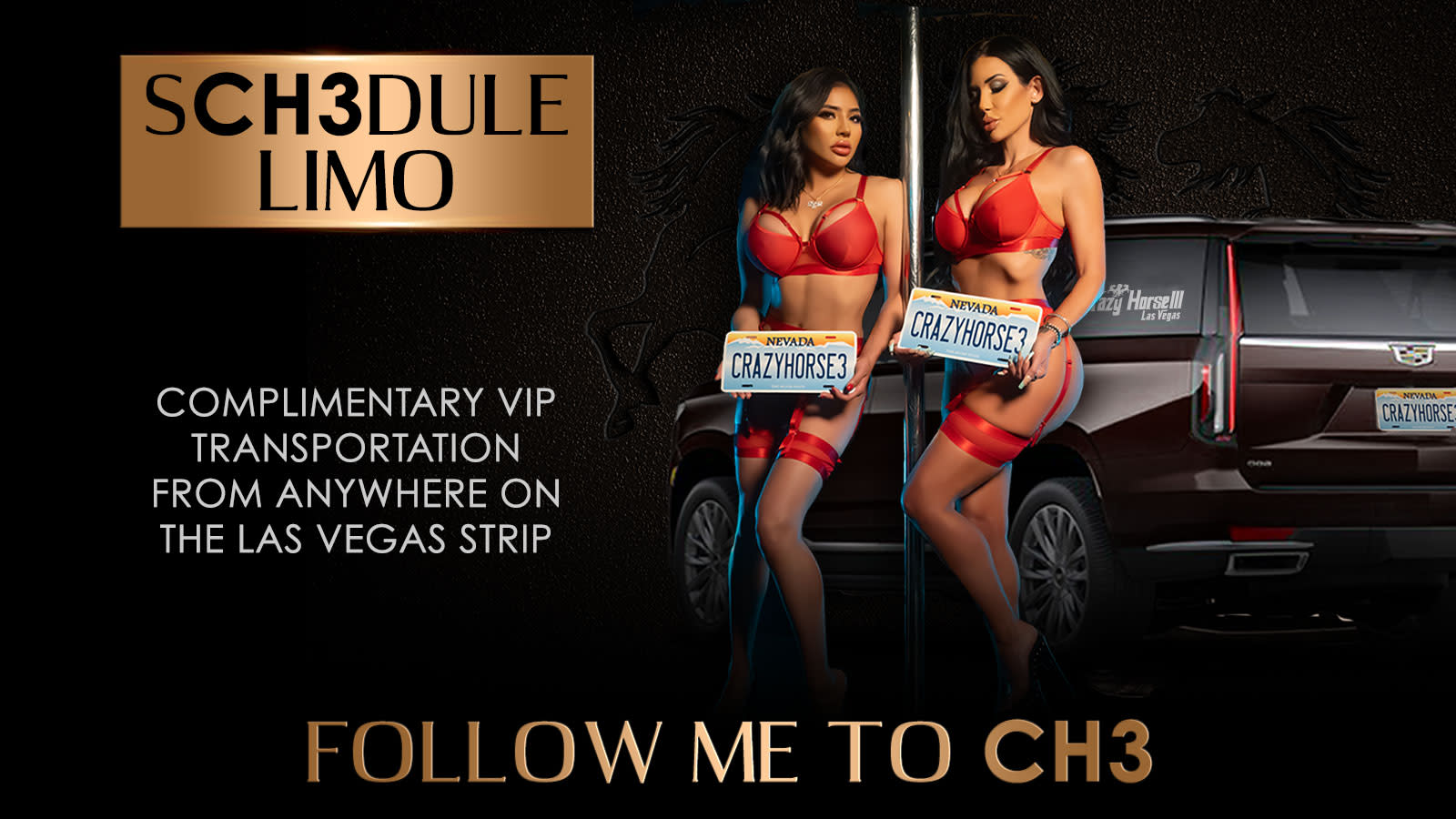 Arrive Like a Boss with Our Free Limo Service
Join the party with Crazy Horse 3's free limo service. You'll arrive in style in one of our modern, well-appointed vehicles.
How Does the Free Limo Service Work?
All you have to do is call! We'll schedule your pickup time and location. Approximately 20 minutes before your scheduled pickup, one of our friendly chauffeurs will be dispatched to your location.
You'll receive a call between 10-20 minutes prior to your pickup time. The driver will give you an estimated arrival time. He will also give you detailed instructions on where to meet him (usually the main valet/taxi area). You'll also be informed of what type and color of vehicle you can expect. If you ever have any question if you have the right driver, simply ask him to call your phone. If the driver can't do that, it's the wrong driver! Immediately call the driver who contacted you back and ask for clarification. Odds are, he's on his way, or down the line at the pickup area.
FAQ
Q. What hotels does your free limo service pick up from?
A. We service all major hotels & casinos on the strip all the way to Downtown Las Vegas. For larger parties that pre-pay for bottle service, we expand our pickup area, call in advance for details.
Q. How Far in Advance Do I Need to Book?
A. On most nights, if you give us 30 minutes notice we can be there on time. If it is exceptionally busy, such as a big fight night, holiday, or a major convention is in town, it can take longer. The more lead time you give us, the better the odds we can accommodate your party.
Q. Is There Alcohol Served in the Limo?
A. No, due to liquor service regulations, we do not offer alcohol in our limos. You may bring your own, however. We recommend only bringing a small amount, just enough for the ride. You will not be able to bring outside drinks into the club, and there is no place to store it.
Q. Will Other People be in the Limo?
A. Yes, because it is free, we attempt to pick up as many people as possible in one trip. However, if you come early in the evening, it will often be only you, and perhaps another couple.
Q. Can We Get a Private Limo?
A. Yes, but it's not free. Call for details.