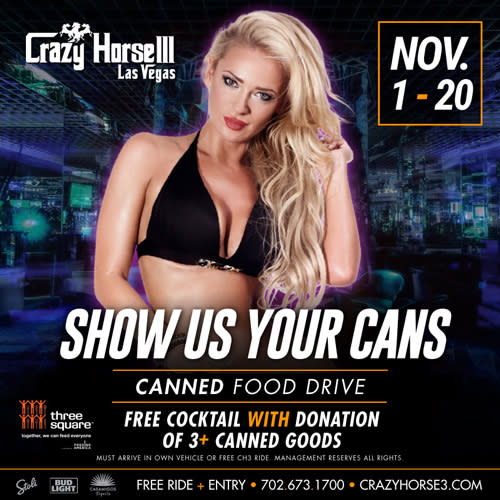 It's time to Show Us Your Cans! The annual CH3 Canned Food Drive is here from Friday, November 1 until Wednesday, November 20. Bring three canned goods and receive one free cocktail. All donations will benefit Three Square - together, we can feed everyone. Must arrive in own vehicle or free CH3 transportation. Call 702.673.1700 for free ride and free entry.
Show Us Your Cans
$ 49.00
Premium Transportation to CH3
VIP Front of Line Entry ($40 Value)
No Admission Charge ($40 Value)
Main Room Seating
$60 Beverage Voucher
NOTE: This package is not available for use on Thu-Sat, April 23-25 (Draft). Please reserve one of our Draft packages or call 702.673.1700
Promotions cannot be combined with any other offers. Management reserves all rights.


I agree that I am 21 years or older.