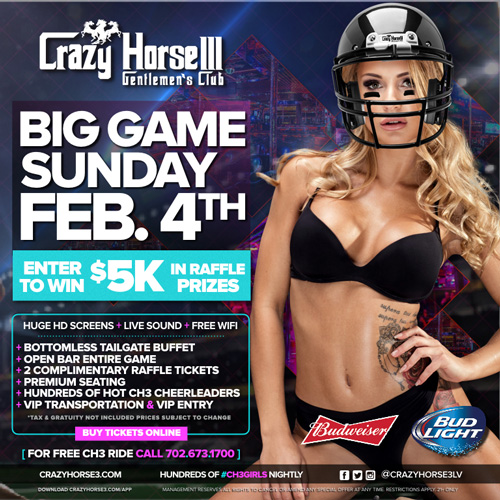 The Big Game is on at CH3 - Sunday, February 4. Our VIP All Access ticket includes Open Bar from the Beginning to the End of the Game, Bottomless Tailgate Buffet, Premium Seating, VIP Transportation, VIP Entry, plus 2 Complimentary Raffle Tickets - over $5,000 in Raffle Prizes. Super Sunday is much more fun surrounded by hundreds of Hot CH3 Cheerleaders! Get your tickets online now and save with our pre-event pricing. Note: must be in own transportation or use CH3 free transportation to avoid additional cover.
VIP Big Game Sunday
February 4
$ 249.00
Our VIP Super Sunday Ticket Includes Open Bar, Bottomless Tailgate Buffet plus VIP Seating throughout the Game ($400 Value)
VIP Transportation to CH3 (Pending Availability)
VIP Front of Line Entry ($40 Value)
No Admission Charge ($40 Value)
Over 15 120" HD Screens & Live Sound
Enter to Win Raffle with $5,000 Worth of Prizes
Ticket Includes 2 Raffle Tickets
Book Now and Save!
All Sales Are Final for This Event - No Refunds
(Open bar is from beginning to end of game only.)
Promotions cannot be combined with any other offers. Management reserves all rights.



I agree that I am 21 years or older.