Best Gentlemens Club to Celebrate New Years Eve in Las Vegas - CH3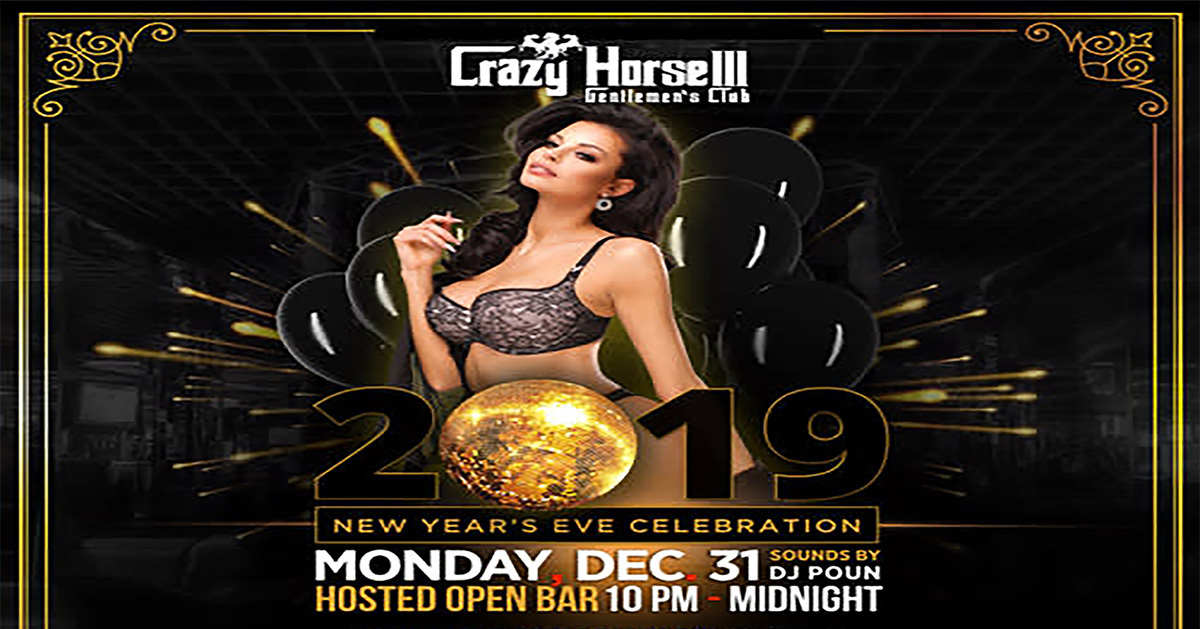 Tags:
Description: Looking for a place to celebrate New Years Eve in Las Vegas - Consider Crazy Horse 3 Gentlemens Club- free transportation, drink specials, & gorgeous girls
Welcome the New Year with a Bang at Crazy Horse 3 in Las Vegas
It doesn't matter if you had a year that's one for the books or one that you'd rather forget. Make sure the next one is even better with a banging New Year's Eve party in Las Vegas. This resort city has everything you need to welcome the New Year: bright lights, amazing casinos, beautiful ladies, and a lot more. All of these ingredients make for the perfect place to welcome the New Year with a fun night out! And if you're going to celebrate the New Year in Las Vegas, you won't want to spend the evening in a depressing casino bar. You want to experience the best, and party the year away at a place like Crazy Horse 3, a modern gentlemen's club that brings you closer to the heart of Sin City.
Why Crazy Horse 3 Has Everything You Need for New Year's Eve
Anyone can say they've partied all night to welcome the New Year, but not everyone can say that they've spent the last night of the year at an upscale Las Vegas gentlemen's club. Indeed, Crazy Horse 3 is a classy place that can cater to all types of guests who're in for a wild night out. It achieves this all thanks to a mix of a posh atmosphere, the hottest girls, wonderful amenities, and convenient limo service. And when you top it all off with amazing food, along with all the booze you'd want—you're sure to have everything you need for a memorable New Year's Eve bash!
New Year's Eve Celebration Package $ 50.00
Premium Transportation to CH3 (Pending Availability)
VIP Front of Line Entry ($60 Value)
No Admission Charge ($60 Value)
Main Room Seating
Hosted Open Bar 10 pm to Midnight ($60 Value)
Late Night Drink Specials
Sounds by DJ Poun 1 am to 5 am
Locals get Free Mimosas, Bloody Marys & Breakfast Options 4am-9am
Book Now and Save More! Tickets Will Be $80 at Door
Locals in Own Transportation are Free
A Place That Defines Class
Aside from our gorgeous ladies, everyone else has to follow the dress code. Dress to impress! Anyone wearing flip-flops, cargo shorts, baggy pants, basketball jerseys, or other raggedy articles of clothing are turned away at the door. Indeed, management is strict about allowing only guests wearing fashionable and upscale clothing inside to party. And this makes all the difference in the world, helping create a fancy atmosphere without losing the edgy vibe of a wild night out with friends. Looking your best will also have its own benefits. But we'll get back to that in a bit.
Get a Limo to Pick You Up
Once you've booked, you'll be glad to know that you'll get a complimentary ride courtesy of Crazy Horse 3's impressive fleet of VIP transportation. Wherever you're coming from, we can pick you up from all of Las Vegas' major hotels and casinos—and even all the way from downtown. But the traffic on New Year's Eve can get pretty hairy, so just make sure to get there as early as you can. Still, the complimentary ride also comes with complimentary VIP entry with absolutely no cover fee upon arrival. And with you and your friends dressed to impress, you can start the night out feeling like a boss from the moment you step out of the limo. All combined, you'll find that it's the best way to roll into the club and ensure you have the time of your lives.
The Hottest Ladies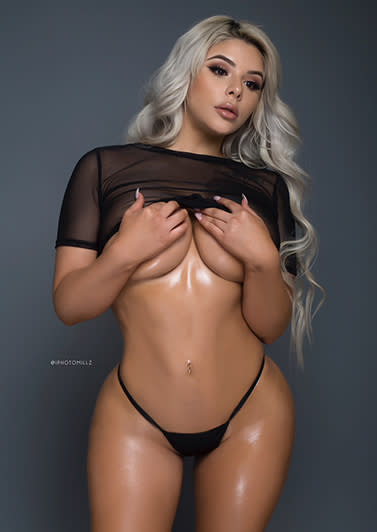 Once you step into the club, you'll notice that the place is populated by hundreds of the hottest girls on the strip. And they're all in the club to make sure you and your friends have an unforgettable New Year celebration. With their supermodel good looks and voluptuous curves, you'll have more than your fill of eye candy. But if you're looking for a little bit more, you'll be surprised that they're also some of the smartest and wittiest conversationalists you'll ever meet. And here's a quick tip to get you started: make sure to look your best and be confident. If you do, you won't need to go to the ladies—the ladies will come to you. What's more, you can also order a private lap dance from any of Crazy Horse 3's beautiful girls. VIP rooms and private suites are also available if you had a more cozy and intimate experience in mind. And if you're a first-timer, just make sure to avoid touching the entertainers without their permission.
The Club Is Packed with Other Amenities
If some of Sin City's sexiest girls aren't enough, then you'll be glad to know that Crazy Horse 3 has a lot of other things to keep you occupied. We pulled out all the stops to turn our expansive main room into the perfect party place. Here, you'll see a fully staffed fifty-foot bar to make sure everyone gets served, along with multiple large HD plasma screens to keep you and your crew entertained.
All the Food and Drinks You'll Want
Before you find yourself tiring out and needing to recharge, you'll want to order some grub and booze—and you'll find that we have a fine selection of both, as well. Indeed, your party won't be complete without some delicious food—along with the alcohol you'll need to keep the party going into the New Year. Thankfully, Crazy Horse 3 has got you covered on both ends. You can take your pick from our extensive mouthwatering food menu. And if once you're feeling a little thirsty, just ask the bartender what's available, and don't forget to give a good tip while you're at it. Whether you're in the mood for some bubbly or just a bottle of beer, you'll have your pick of the best options to drink the night away. As an added bonus, you can even order some flavorful cigars to jazz up your stay even more.
One Last Thing for Those on the Fence
If you're still not convinced, Crazy Horse 3 has one last trick up its sleeve: crazy deals and party packages to help you get the party started. These deals are specially put together for groups of different sizes and with different budgets, so you won't have to spend too much paying individually for the same experience. If you want to save big on your New Year's Eve party, then make sure to book online in advance and choose the deal you want. Alternatively, you can also contact one of our own professional party planners, who can also help make your New Year's Eve party even more unforgettable. Just tell us what you're going for, and we can set you up with the right people and package. We can even suggest a theme that ticks all of your boxes to ensure that you have the best night of your lives.
But You Won't Run Out of Options in Vegas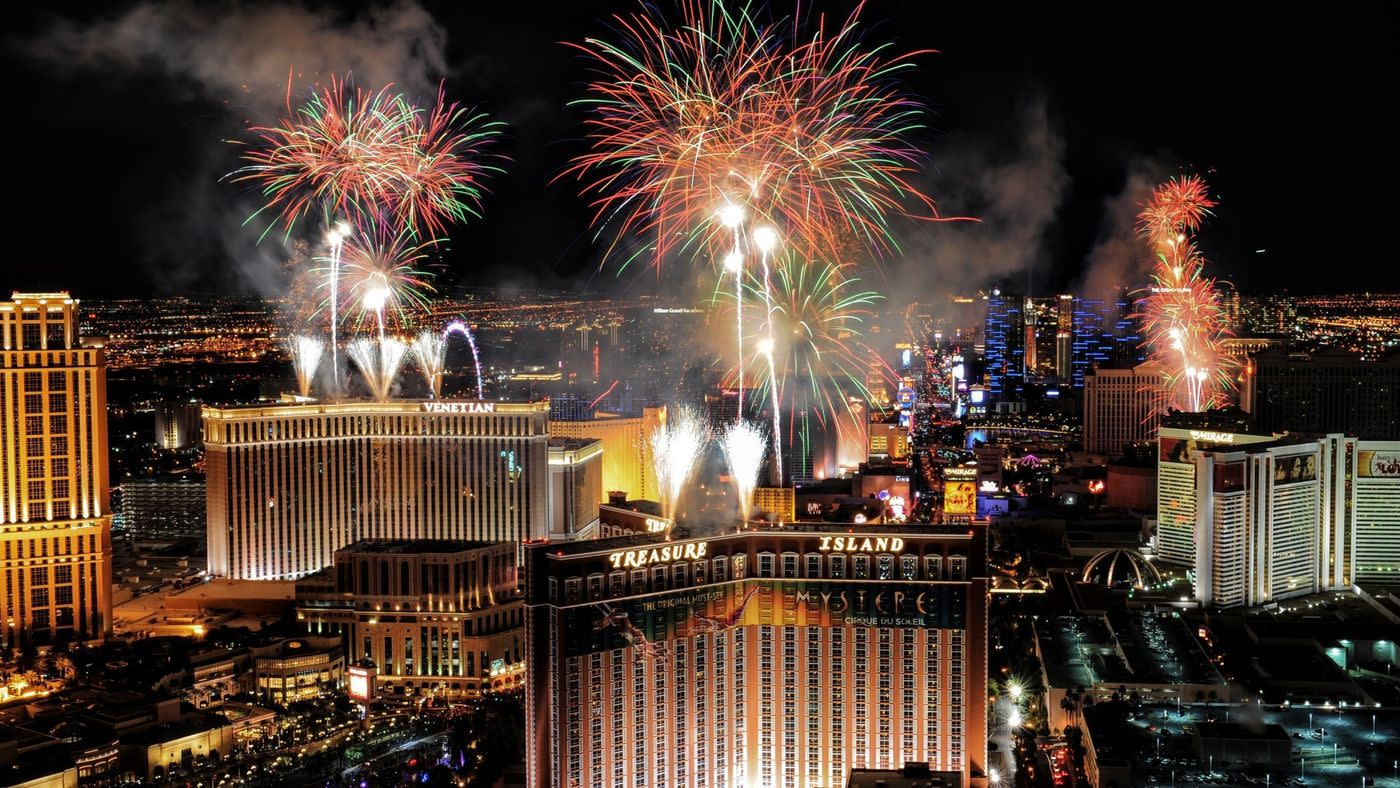 Once you're in Las Vegas, there's no way to go but up. And that's thanks to a wide variety of alternative places to party or other places to keep the party going. After all, Las Vegas doesn't lay claim to being the Live Entertainment Capital of the World for nothing. The strip is home to plenty of other options to party, with a plethora of bars, hotels, and casinos playing host to a variety of celebrations. This is already true on a normal evening in the city. But on New Year's Eve, things get a little wilder. To turn the heart of Las Vegas into a huge block party, The Strip is closed to traffic as early as 5 PM.
It sounds awesome right? Huge block party, tons of excitement!
But the reality is you can't move anywhere in a hurry so wherever you end up, plan on spending the next several hours within a block or so if your initial position. It just takes too much effort and time to go anywhere on NYE. You'll be surrounded by revelers of all types, some which can become unruly and rude. Definitely not somewhere to take a date. And if you're with a group of friends, plan on getting split up at some point and not seeing them again until the next day. You're much better off hunkering down at Crazy Horse 3 where you can avoid street closures and traffic jams all while being surrounded by gorgeous women and waited on by an eager and attractive staff. You can still watch the ball drop and catch the fireworks on the numerous HD screens so you won't miss out on the festivities!
No matter where you end up going, celebrating New Year's Eve in Las Vegas is a unique experience. Just be sure to make an informed decision for what's best for you and your group so you have an experience everyone remembers fondly.