Tags:
Description: Whether you're looking to catch the big game, view a big UFC event, or just celebrate a major holiday like New Year's Eve, Crazy Horse 3 has you covered! We feature over 15 HD big screens so you'll catch all the action. Our sexy staff adds panache to any event, & the CH3 girls make the best cheerleaders. Book today!
Crazy Horse 3 is home to some of the best sporting event viewing parties in Las Vegas.
When it comes to watching big sporting events there are a lot of places in Las Vegas to party and catch the action. There is no better place in Las Vegas for major sporting events than Crazy Horse 3 Gentlemen's Club. Where else can you watch the Big Game or a UFC fight surrounded by hundreds of the most beautiful girls in the world, 24 giant HD TV screens, 5 private VIP bars, amazing drink deals, and a top-notch kitchen?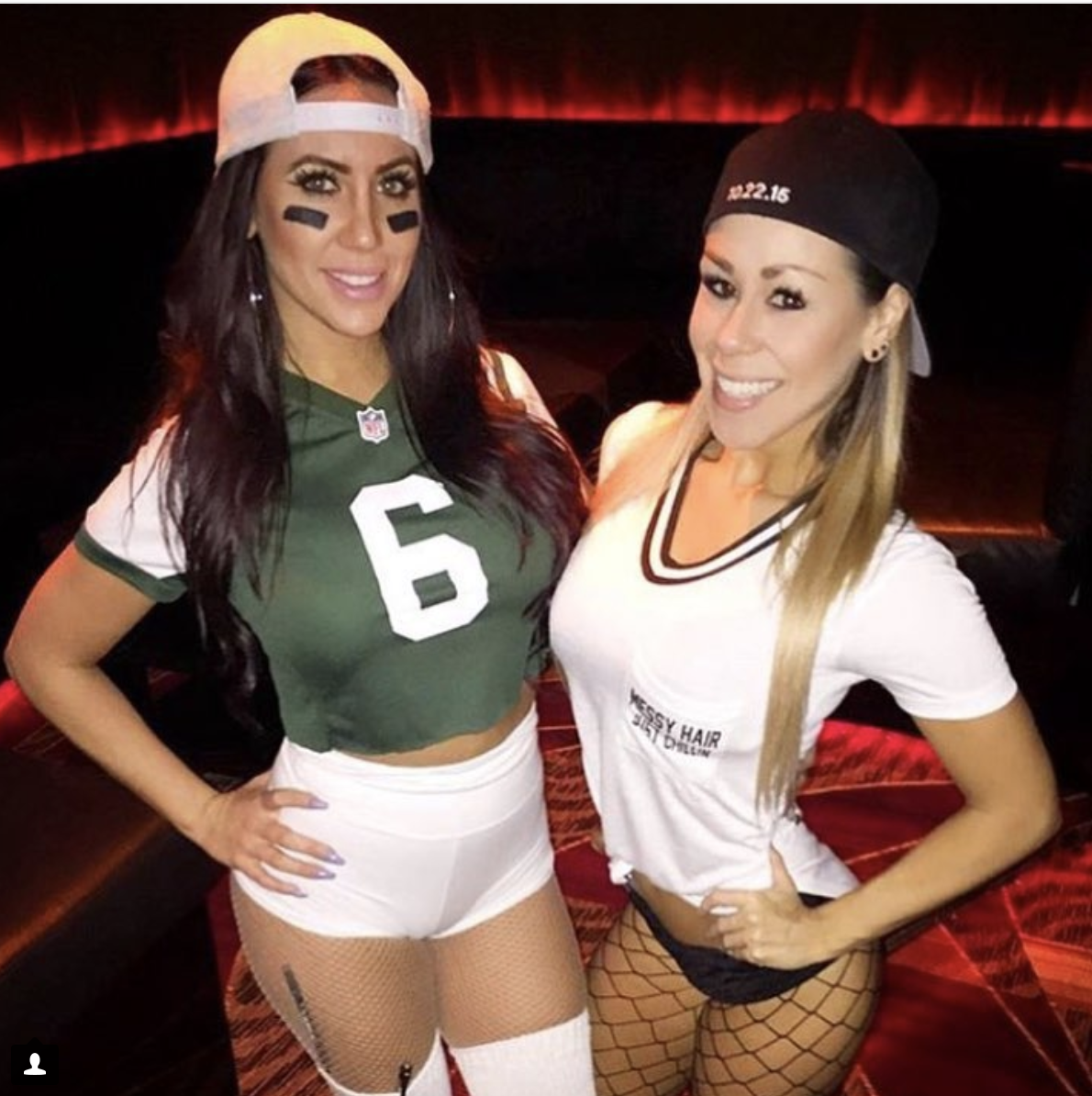 That's right, at Crazy Horse 3 you can enjoy the company of smoking hot girls, bottle service, and sushi while cheering on your hometown Vegas Golden Knights win in overtime. Add a cigar or some hookah to the mix and you and anyone else you bring along are sure to have a great time. When the game is over and you're done partying your face off, you'll know you've done it right!
So what makes watching a UFC fight at Crazy Horse 3 so much better than anywhere else in Las Vegas? The answer is simple… the parties. Crazy Horse 3 has been known to throw some of the craziest sporting event parties in Las Vegas. From Vegas Golden Knight games to the Big Game and everything in between you can expect Crazy Horse 3 to offer the best time and the best party packages in Las Vegas. The party always goes on well after the event is over, but during the events, they offer specials like free pizza, buffets, buckets of beer, and much more. Even the girls love to join in the fun. They love repping gear from their favorite NFL, NBA, and MLB teams. Of course, they also love repping the hometown Vegas Golden Knights. To prove Crazy Horse 3 is the best place in Las Vegas to watch a sporting event, we've outlined some past and future sporting events at Crazy Horse 3 for you.
Football on Monday Nights at Crazy Horse 3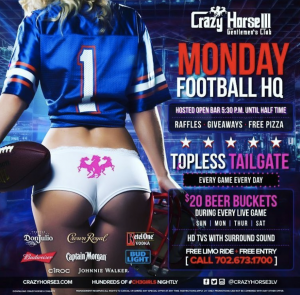 Las Vegas has plenty of options for watching the football game on Monday nights. That doesn't make them all the right choice. If you're looking for the right place in Las Vegas to catch the football game on a Monday night, then look no further than Crazy Horse 3. Crazy Horse 3 has everything you need to watch your favorite team beat up on a division rival. Every Monday during football season Crazy Horse 3 offers a hosted open bar starting at 5:30 pm up until halftime. Plus raffles, giveaways, and free pizza. You'll have a hard time finding deals like that anywhere else in Las Vegas on a Monday night.
Sure free pizza and drinks specials are great, but what makes football on Monday Nights at Crazy Horse 3 better than anywhere else in Las Vegas is cheering for your favorite team surrounded by the hottest dancers in Vegas. The girls at Crazy Horse 3 are not only gorgeous but on Monday nights they throw gear from their favorite team and man does it make it hard to focus on the game. Just check out a few photos from the official Crazy Horse 3 Instagram to get a little taste of a Monday night during football season.
Monday's can be rough, but they don't have to be! Enjoy football, free pizza, and the hottest girls in Las Vegas all season long at Crazy Horse 3. And if Monday's aren't enough, then no need to worry! "Topless Tailgate" at Crazy Horse 3 is for every game day during the football season.
Hockey Events at the Horse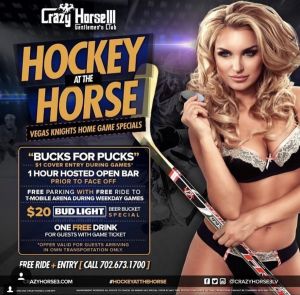 It is a really exciting time in Las Vegas. We finally have a professional sports franchise and guess what, they are actually pretty good. So Golden Knights fans where have you been watching the games? If you are still looking for a place or want to try something new, then Crazy Horse 3 should be where you watch the next game.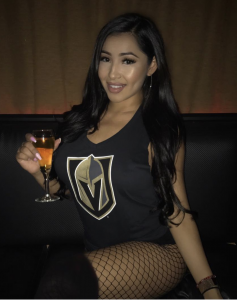 Crazy Horse 3 hosts "Hockey at the Horse" for all Vegas Golden Knights Home Games. The "Bucks for Pucks" special is one of the best in town: $1 cover charge until the game ends plus one hour hosted open bar prior to face off. Are you going to the game and need a spot to pregame? Crazy Horse 3 offers free parking AND a free ride to T-Mobile Arena during weekday games.That's not all Golden Knights fans, there is a $20 Bud Light Beer Bucket Special and one free drink if you bring your game ticket. Watch all the on-ice action Crazy Horse 3's massive 70in and 100in flat HD television screens while a few of the hottest girls in Las Vegas keep you company.
New Years Eve Event at Crazy Horse 3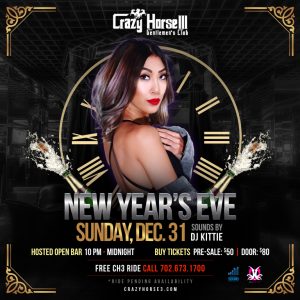 Still looking for New Year's Eve Plans? Everyone knows that Las Vegas is the place to be for New Year's Eve. The Las Vegas Strip will be packed and everyone will be looking to party. If you're looking for a place in Las Vegas to say goodbye to 2017 and welcome in 2018, we recommend that you lock something in early. Bars and clubs will have special packages set up specifically for New Year's Eve, but there is a limited supply. Most of the New Year's Eve party packages in Las Vegas will include entry and a couple free drinks. Yes, of course, the price will be ridiculous. One of the best New Year's Eve parties in Las Vegas is at Crazy Horse 3. What better way to welcome in 2018 than popping champagne with the most beautiful girls in Las Vegas. Even better, for only $50 you get full access to their open bar from 10 pm to Midnight. You should book now as tickets will be $80 at Door. Once the ball drops Crazy Horse 3 will be offering late night drink specials. If open bar and late night drink specials aren't enough for you, Crazy Horse 3 has another trick up its sleeve; a special guest DJ appearance. That's right, all night the music will be provided by the lovely and talented DJ Kittie. Crazy Horse 3 has really covered all of its bases on this one so make sure you are at the best New Year's Eve party in Las Vegas. Your $50 New Year's Eve ticket also gets you:
Premium Transportation to CH3 (Pending Availability)
VIP Front of Line Entry ($60 Value)
No Admission Charge ($60 Value)
Main Room Seating
Special Guest DJ Kittie
That package is the ultimate VIP experience and for a reasonable price. There is something on the list that really caught our eye and probably caught yours… oh yeah, OPEN BAR! Drinks aren't always cheap in Las Vegas so an open bar is like gold. Look we already know Crazy Horse 3 has thrown some of the wildest New Year's Eve parties in the past. We also know that Crazy Horse 3 has some of the most beautiful entertainers in Las Vegas.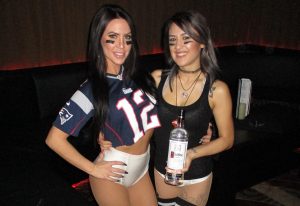 Heading to Crazy Horse 3 for their New Year's Eve party is the right move. Just make sure you book early so you don't miss out. It will be the best New Year's Eve party in Las Vegas. You can book now by calling 702-673-1700, visit the website at www.crazyhorse3.com, or on the Crazy Horse III app.
UFC Viewing Parties at Crazy Horse 3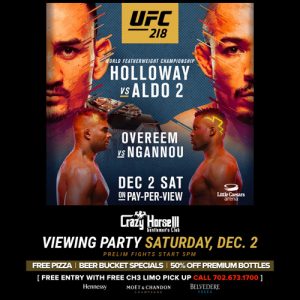 People from all over the world travel to Las Vegas for UFC fights. Those who aren't going to the fight come to Vegas for the UFC Fight parties and Crazy Horse 3 has hosted some wild UFC Fight parties. The most recent UFC Fight party at Crazy Horse 3 was UFC 218 which featured Holloway vs. Aldo 2 fighting for the World Featherweight Title. Crazed and casual UFC fans got to watch all of the fight card's action on the Crazy Horse 3's massive 70in and 100in flat HD television screens. Fans partied and cheered alongside Crazy Horse 3's stunning girls. Crazy Horse 3 offered free cover for Las Vegas locals and anyone who took advantage of Crazy Horse 3's free limo service. Fans also enjoyed free pizza, half-off premium bottles, bucket deals and more. There was also a fight package offered for only $50 that included; premium transportation to CH3, VIP front of line entry ($40 value), no admission charge ($40 Value), main room seating, and a $60 beverage voucher. Deals like this are hard to find anywhere else in Las Vegas, but are commonplace at Crazy Horse 3. Deals like this meant the place was packed and it was easily the hottest place to be in town for the Fight. Of course the party continued on long after the fight ended making it a memorable night for many. Fighters like Chuck Liddell, and Anthony "Showtime" Pettis have been known two show up to Crazy Horse 3 for post fight parties has well. If fighters are coming to Crazy Horse 3, then you know that the UFC party is the best in Las Vegas.
What is an atmosphere model you ask? (If you already know this answer just go ahead and skip to our top 5 reasons to hire atmosphere models) An Atmosphere model is someone or a group of people who are hired to magnify the atmosphere while adding energy, beauty, and excitement to your convention booth or event in Las Vegas. Atmosphere models are trained to entertain, interact, and educate your visitors. They are experts at creating the first line of communication and making visitors feel welcome and important. Atmosphere models and talent are often extremely beautiful individuals to attract visitors to your booth or event in Las Vegas. You've seen promotional models before, we all have, and there is obviously a good reason for that: when correctly used, they ignite the experience at your event. Las Vegas nightclubs hire the best-looking people for a reason. People will go out of their way to be around attractive individuals.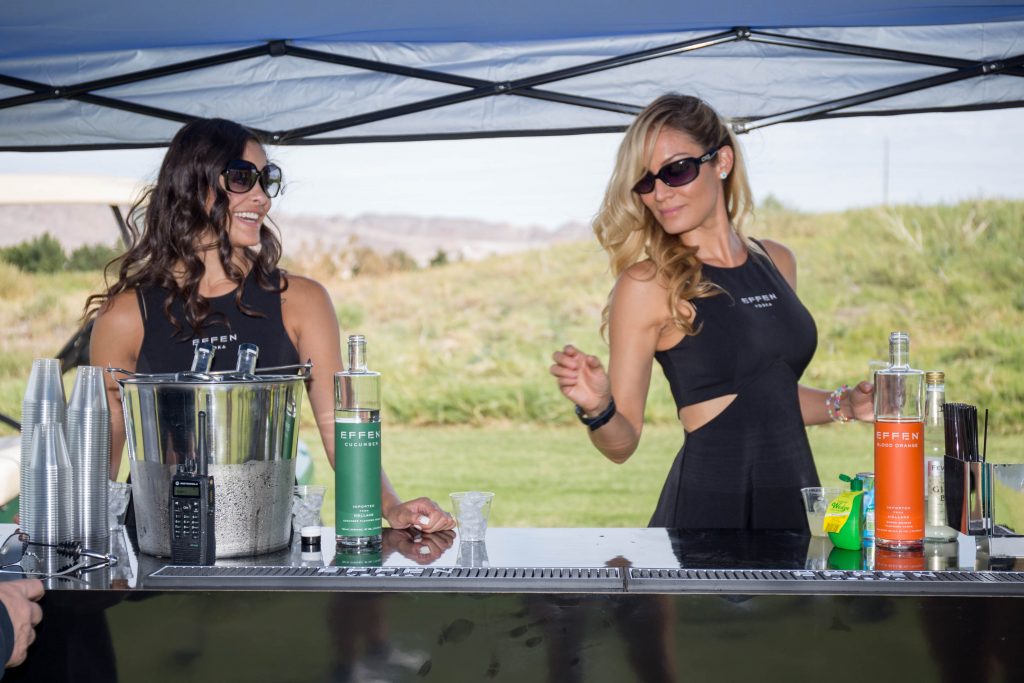 We've outlined five reasons why you should hire atmosphere models the next time you come to Las Vegas for an event or convention.
Increase Your Sales
This one is pretty obvious: the more foot traffic, the more opportunity you have to close clients and customers. Closed clients are money in your pocket. Atmosphere models create that foot traffic that creates leads. Having good-looking, educated people around your event or booth creates the aura of success. People want to work with other successful people. It goes along with the old say; "look good, feel good." Having atmosphere models around also creates increases customer satisfaction and lead engagement, both of which you can directly attribute to increased sales.
Let's face it, it is impossible to attribute revenue to having your logo on a fidget spinner. Having actual human beings interact with and excite visitors can immidiately increase sales. Sure, not every person who comes to your booth or event and interacts with a promotional model is going to convert to a paying customer, but creating that first point of contact is extremely important in the sales process. If you hire the right environmental talent, prospective customers will stick around longer, giving you more time to move them down the sales funnel. We are not saying you shouldn't give away cool gadgets, we are simply saying you should add something to your bag of tricks that you know will result in customer communication and ultimately sales.
Make a Statement
When introducing your brand or product to a consumer the first impression can be the most important. You only get one shot at that first impression, so why not have a professional make it for you? Promotional and atmosphere models are trained experts on nailing the first impression. Their presence alone brings personality and energy to your event. If you want to draw a crowd to your event or booth, make a statement with atmosphere models. Las Vegas trade shows and events are all about making a statement.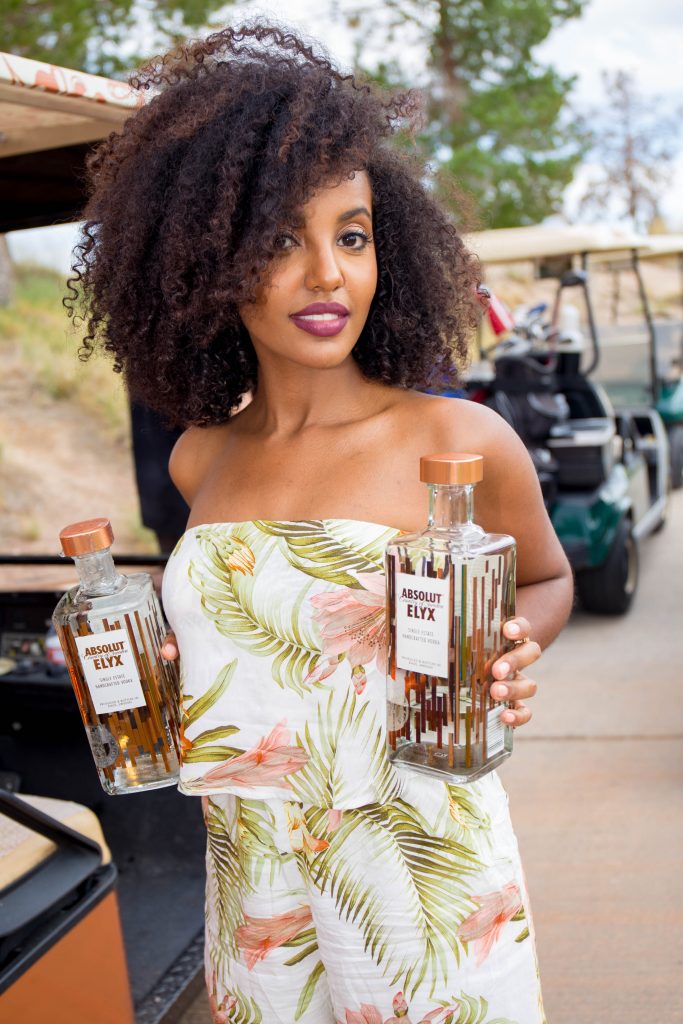 If you want to win in this town you better come prepared with brass and gumption, and atmosphere models are the way to do just that. At these events and trade shows in Las Vegas, you are constantly competing for people's time and attention. An atmosphere model that can turn heads and speak professionally about your product or service can be that critical element that sets you apart from the rest of the pack.
Be Bold. Be Different.
As stated in the previous section, at a Las Vegas trade show or event you need to set yourself apart. You need to have something different than everyone else at the event. Don't be the place that has a couple boring employees standing around in their business professional attire ready to spit out technical jargon about your product or service. Don't be the spot at the Las Vegas trade show that people just collect the business card and forget about you. Set yourself apart with some great looking people who also know what they are talking about. It really isn't rocket science. In business, your product or service sets you apart, at events or trade shows in Las Vegas your atmosphere sets you apart.
No matter what type of event you are planning in Las Vegas, hiring atmosphere models will always make a lasting impression. Having a refreshing smile and an upbeat attitude will bring positive vibes that many others will be missing. Just think about having an attractive female doing a product demonstration on a raised podium near your booth. The line will be out the door. At the end of the day, your Las Vegas event or trade show booth should be a unique experience for all those who come by, and atmosphere models are perfect for creating that unique experience.
Reach and Connect with Your Audience
Getting an audience to your Las Vegas trade show or event can be really tough. Once you get that audience you need to make sure your product or service resonates with them so that you can convert them to a customer. The experience a customer has with your brand can greatly dictate whether or not they are going to spend their money with your company. That first contact the customer has with your product or service is the best chance to create a positive customer experience and utilizing experienced atmosphere talent often leads to higher levels of customer satisfaction.
Think of atmosphere models as the openers, and your team as the closers. These atmosphere models will bring the visitors in, open the conversation, and hand them off to your team to nourish and close them. Let the atmosphere models do the typical conversational digging so your team can focus more on what the customer needs. Those contact points are vital to sales, and promotional talent can create those for you.
Increase Energy and Excitement
This is the most important thing that atmosphere talent can do for your event or trade show in Las Vegas. An upbeat spirit, positive energy, and a bright smile can create an infectious environment around your event or tradeshow. People attending trade shows or conventions in Las Vegas see booth after booth and product after product. This type of activity can get extremely tiring. Hiring atmosphere models can give your audience that extra boost they need after a long day. That extra boost of energy is going to create a more engaged customer when you are educating them about your product or service.
Positive energy breeds excitement and excitement creates crowds. Many of the trade shows and conventions in Las Vegas last for days. If your booth has a positive aura about it, then people are going to talk about it, and over the course of those days, people are going to be more and more excited to come visit you. The more people that visit you, the more contacts you create. Atmosphere models are there to create that excitement.
Where to Find Atmosphere Models
Ok, so now you have decided it is time to step up your game for your next event in Las Vegas, you've decided it's time to hire some atmosphere models. How does one go about hiring atmosphere models? You could go to an agency and they will interview and find some girls for you, or you could go to the only place in Las Vegas where the all the hottest girls in town hang out, Crazy Horse III. Crazy Horse III is home to the best-looking atmosphere talent in all of Las Vegas. Their atmosphere models are professional and are experts at attracting interest to your event or booth. The girls at Crazy Horse III understand the importance of creating an amazing first impression, and will certainly attract a crowd. Their positive energy is infectious.
Let the atmosphere talent of Crazy Horse III make your next Las Vegas trade show, convention, or event one for the ages.
For a real one-two punch, book your corporate party event at CH3. We provide discounted packages when you book the venue and our atmosphere models for your event. Call today!