March Mayhem Party at Crazy Horse 3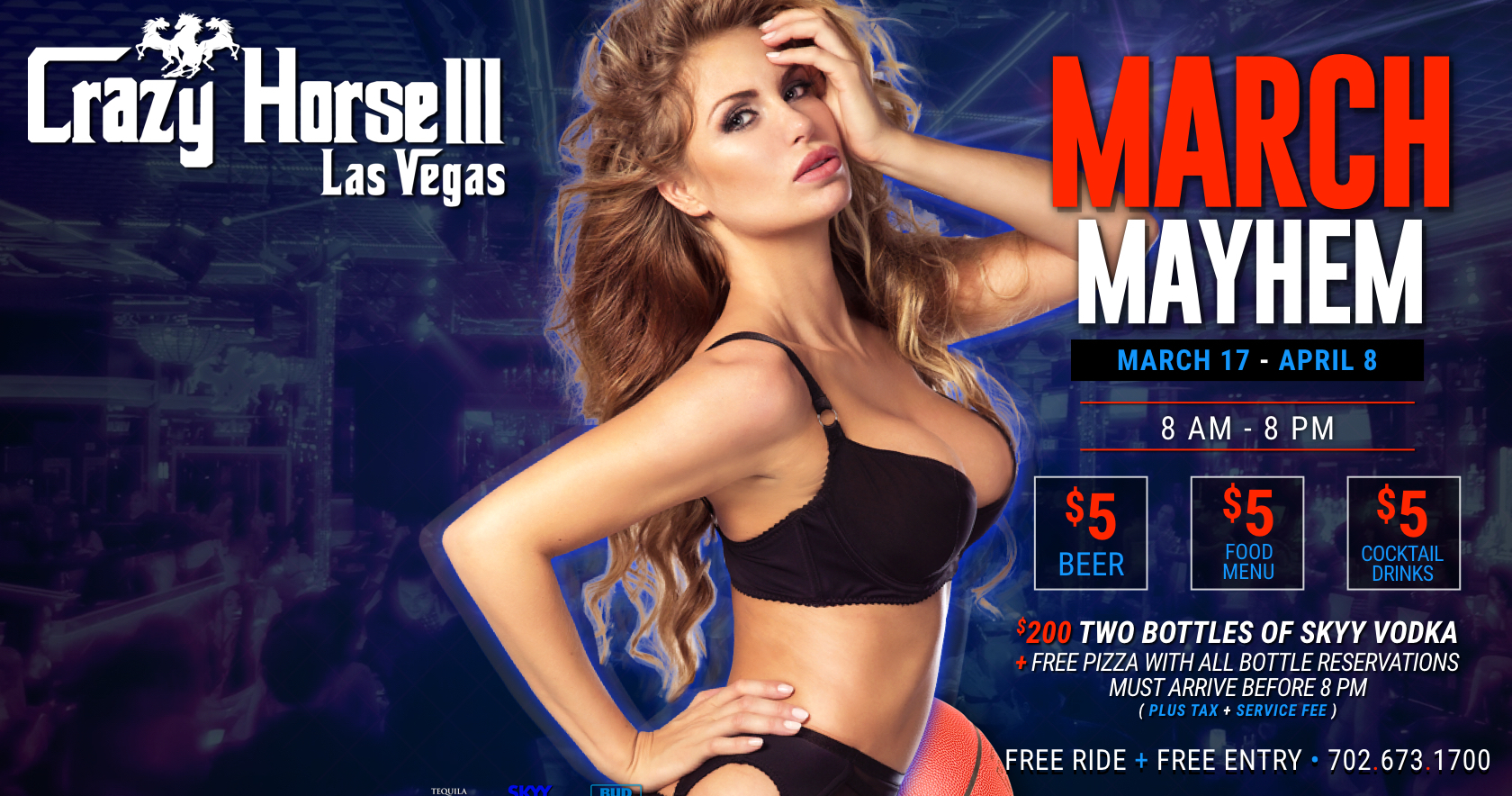 Description: Watch all the games on our HD screens and enjoy great deals on bottles, food, and more. Grab your friends and cheer on your favorite team!
The Big Game and March Madness are the two biggest sports betting events of the year. The Big Game has all the fun props and March Madness has to opportunity for huge upsets. If you're planning a trip to Las Vegas with your buddies, you're probably looking for the perfect time to go. If you're an avid college basketball fan who dabbles in sports betting, then March Madness is the perfect excuse to head out to the desert. In fact, you can even say that Sin City is the best place for this activity.
If you've never heard of March Madness and you're wondering why everywhere in Vegas is crowded, well here is a quick breakdown. March Madness is a term used to define the NCAA Division I men's basketball tournament. It is a single-elimination tournament of 68 teams that compete in seven exhilarating rounds with the winner being crowned national champions. If you're an avid sports fan, you know there is nothing else like it in the world.
Why March Madness in Las Vegas?
Whether you're new to college basketball or an old-time fan, March Madness will allow you and your buddies to ride an emotional roller coaster of upsets, have huge betting wins (and losses), and experience a Cinderella story. You really never know who is going to come out on top. Even the 2018 tournament a number 1 seed lost to a 16 seed. It was the first time it has even happened in the history of the tournament. What a rush for those who placed bets on the 16 seed. The tournament is an amazing time to be a sports fan, and there is truly a no better place in the world to enjoy it than Las Vegas.


Yeah, but Las Vegas is a huge place. Where would we want to enjoy the madness when there are so many bars, clubs, sportsbooks, and more to choose from? Where can we get the best deals and really soak in the Vegas experience while enjoying college basketball? We understand that you want this to be fun and special, so what better way to experience everything March Madness brings than Crazy Horse 3 in Las Vegas?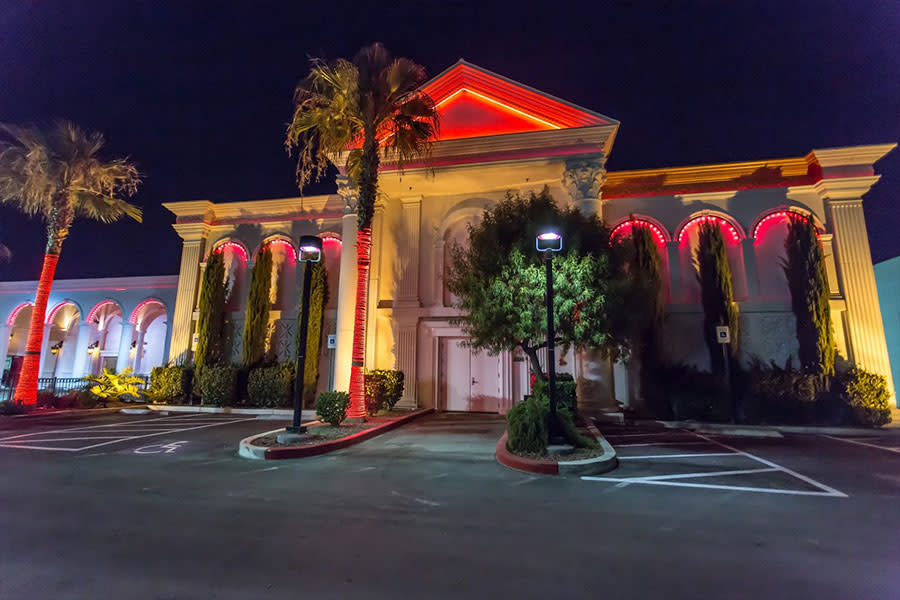 Why Crazy Horse 3 Is the Place for Your March Madness Experience?
Most people will tell you that the best place to be is in the sportsbook of some major casino but take it from a real Vegas local, those might be the worst places.
"Yeah, but how am I going to place my bets if I'm not at a sportsbook?"
Just about every sportsbook has an app these days. It's way easier to place bets and most of them even offer live in-game wagering. With a sportsbook, you have to get there early, the lines to place a bet or cash a ticket are out the door (not kidding), and if you get up to go anywhere, there is a 99.9% chance your seat will be taken. Sure they are a great environment, but it's mostly guys and there is more standing than sitting.
"So you're telling me I should go to a gentlemen's club to watch basketball and bet on basketball?"
Yes, that's exactly right. Crazy Horse 3 is more than a gentlemen's club, it offers amazing alternatives that the sportsbooks can't match.
The Transportation Service
You don't want people from your group to miss any of the action by arriving late just because they got lost in Las Vegas or because they had to take a cab! That could ruin all of the day's action. Imagine missing a buzzer beater to send your alma mater into the Elite Eight? With Crazy Horse 3's premium transportation service, there's no need to worry about late rendezvous. Your group can even go your separate ways during the day, meet up at the hotel later in the evening, and then enjoy a classy ride together straight to your table at Crazy Horse 3.
The Mood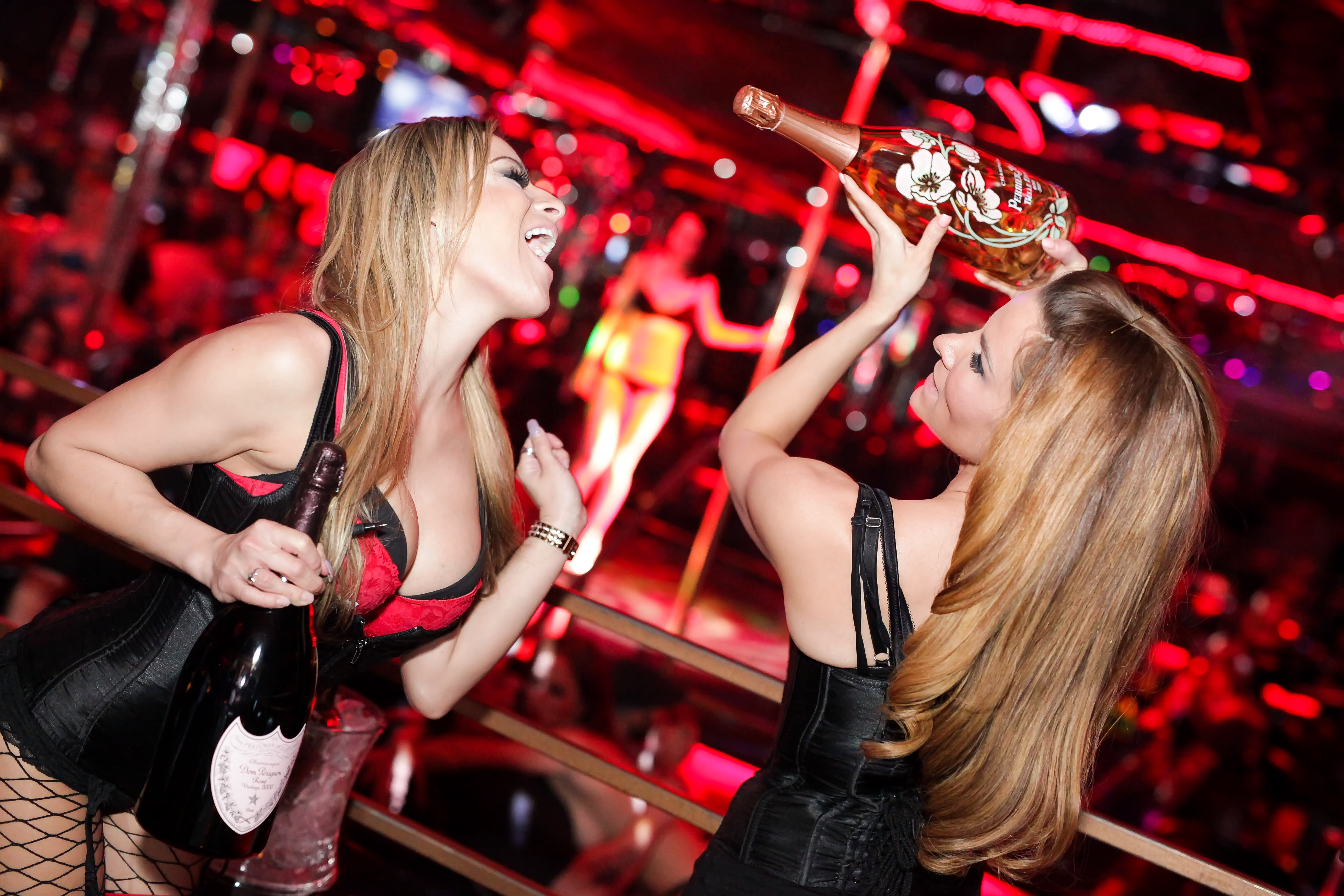 When enjoying March Madness, you want to feel like a sports betting phenom. What better way to set the mood than by having your March Madness party in a gentleman's club in Las Vegas? You get to dress the part, have the finest women around, smoke high-quality cigars, and feel like a VIP throughout the evening.
The Craft Cocktails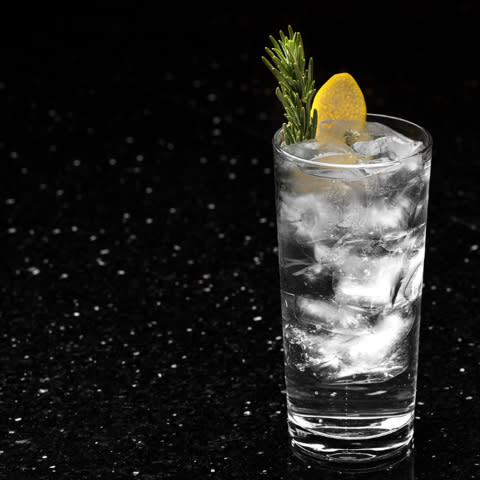 What's a guy's night out without the drinks? We're not just talking about the stuff you buy at the convenience store.
It's a weekend(or a month) of the most exciting basketball you can watch, so you want something more classy for you and your buddies, like a fine bottle of champagne or liquor.
The Food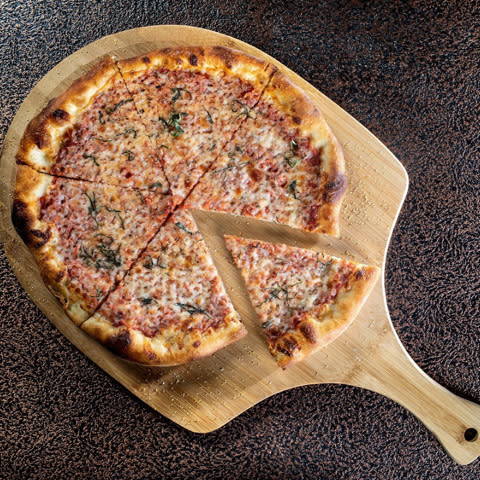 Of course, something the sportsbooks don't have is good food. Yes, most of them have little shops right by the sportsbook, but you have to get up and order. Then you might lose your seat. It's just a mess. The menu for March Madness at Crazy Horse 3 is amazing, especially the pizza. At Crazy Horse 3, we have all of your pizza favorites, and if your group wants something else, we also have numerous other menu options to satisfy every hungry bettor, whether they're craving for quesadillas, mozzarella sticks, or spicy chicken wings.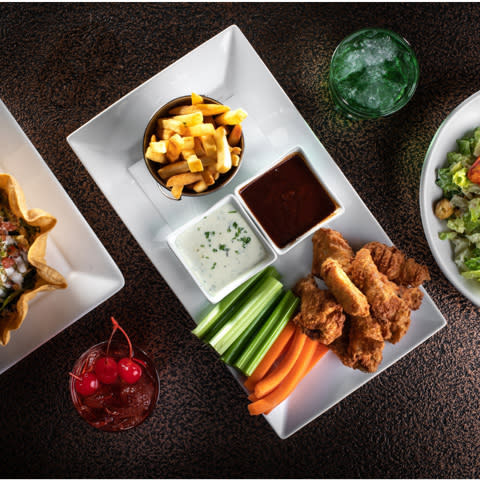 The Tech & TV's
Remember those sports betting apps I was talking about? You should definitely download one and use it. It is the easiest way to bet on any of the games. Crazy Horse 3 was thinking about that too. That's why they provide premium high-speed Wi-Fi. You know, to save your data plan when you are racking up those wins.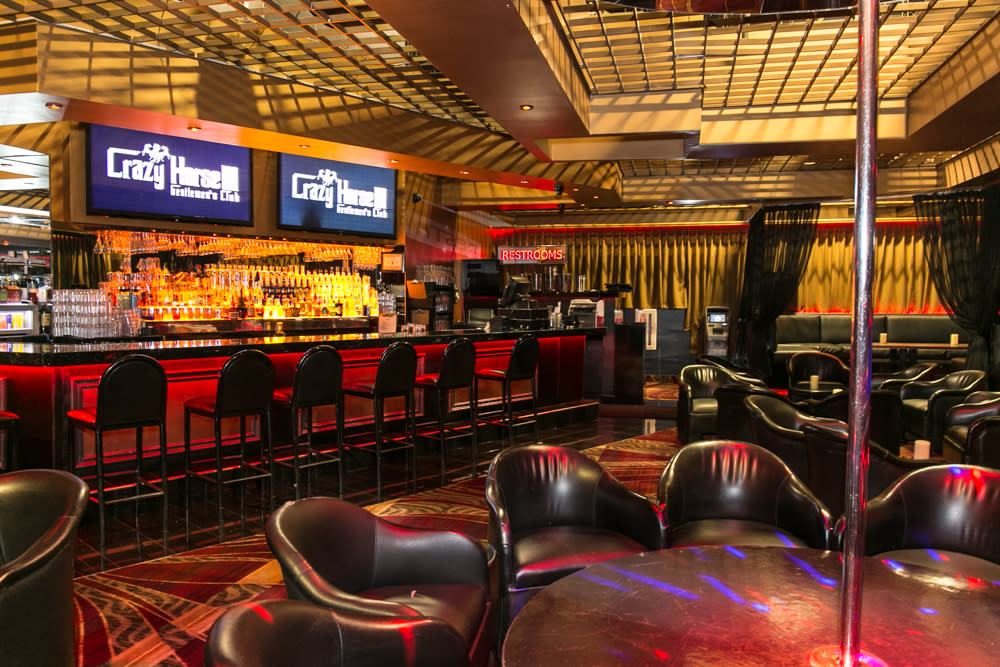 Wi-Fi is cool and all, but how are we going to watch basketball games in a Gentlemen's club. Funny you ask, Crazy Horse 3 is actually lined with 24 gigantic HD TV screens with massive surround sound speakers. There are even private VIP lounges with even bigger screens. Viewership will not be an issue.
VIP Treatment for Great Value Prices
With all the good stuff needed for your March Madness Experience already in one place, you're probably thinking of how much you're going to spend during all these shenanigans. Lucky for you, Crazy Horse 3 offers promos specially made for March Madness: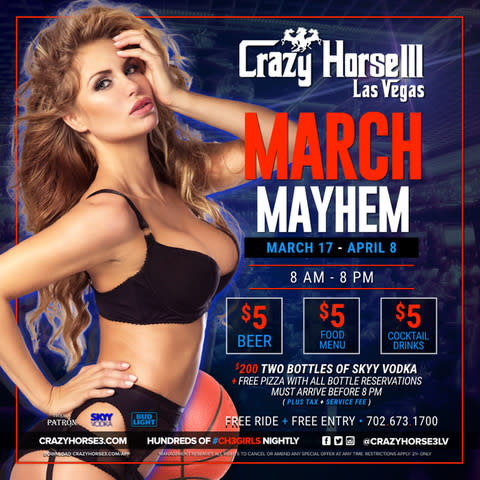 March Mayhem is on at CH3 from March 17 to April 8. It's high fives all around - $5 Beer, $5 Food Menu and $5 Cocktail Drinks. Plus Bottle Specials and Free Pizza with Bottle Reservations when you arrive by 8pm. For a free ride and free entry, call 702.673.17000 or book online and save now.


March Mayhem Is On
$ 50.00


Premium Transportation to CH3

VIP Front of Line Entry ($40 Value)

No Admission Charge ($40 Value)

Main Room Seating

$60 Beverage Voucher

Excluding special events and sports viewing parties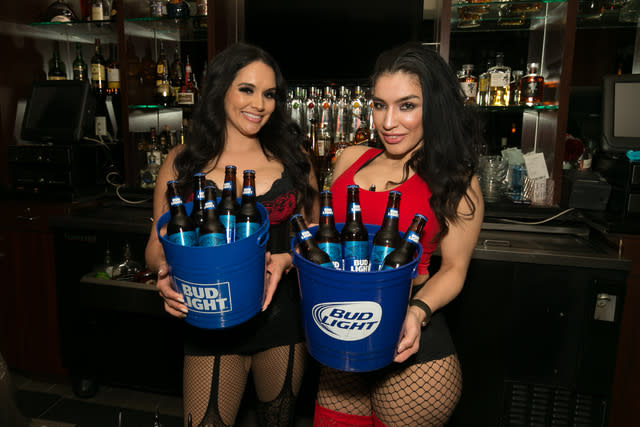 As you can see, whether you're bringing a small group of your closest buddies or the whole gang, Crazy Horse 3's Crazy Deals makes for a reasonably-priced VIP-level March Madness experience that you will surely never forget. Outside of those deals, you'd be spending almost double that amount, so you're really getting a lot of value out of your party budget. All deals include limo service, waved admission charge, VIP front of line entry, and seats in the club's main room.
So now that you know where you are going to party for March Madness, what are some Vegas local tips that can make your experience better?
Pace yourself
This is something a lot of parties don't realize when they come to the desert. When people come here they want to party and have a great time. Why else do you come to Vegas? But too often people don't pace themselves and they end up spending too much, drinking too much or gambling too much. So just pace yourself.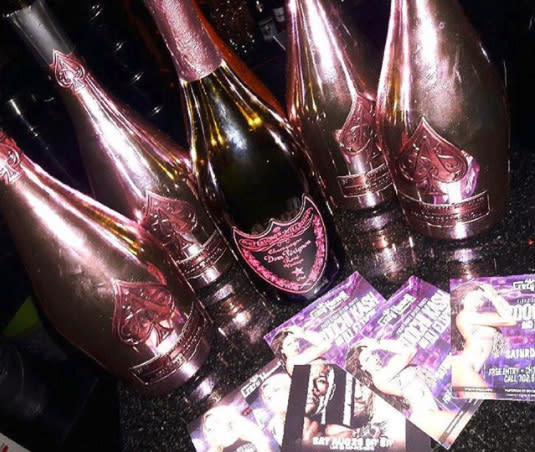 We get it, it's a guy's night out and there's plenty of drinks, but this isn't just an ordinary bar trip. Instead of focusing on quantity, this is a great time to spring for the upgrade and get a quality single malt or rare victual you've been wanting to try. Remember that during March Madness there are games all day every day, and that means you have to stay sharp for most of the day. The last thing you want is making a bad pick because you're too tipsy to make an informed decision. Set your drinking pace accordingly, and you should have no problems.
You may also want to spring for some high-grade cigars to set the mood as well. Reset your focus and get back in the game with a hearty puff on a quality stogie.
Plan Ahead of Time
The best way to find the most value in your bets is to do your research on the teams. Look at their strength of schedule or how well they shoot from the free throw line. Don't just blindly pick teams because their mascot is cooler. Have a plan and you will surely have a much better time.
Also, planning your itinerary ahead of time will save you a ton of headaches and money. For example, if you book your March Mayhem party before-hand, you'll save a bunch of money vs. paying at the door.
Have Fun
Most importantly, have some fun. This is a trip of a lifetime and you don't want to ruin it by getting too drunk or making the wrong people mad. Just enjoy your time and really enjoy the environment. Crazy Horse 3 is such an amazing place to be, make sure you are able to soak it all in.