More Than a Gentlemen's Club: Why Celebrities Love to Party at Crazy Horse 3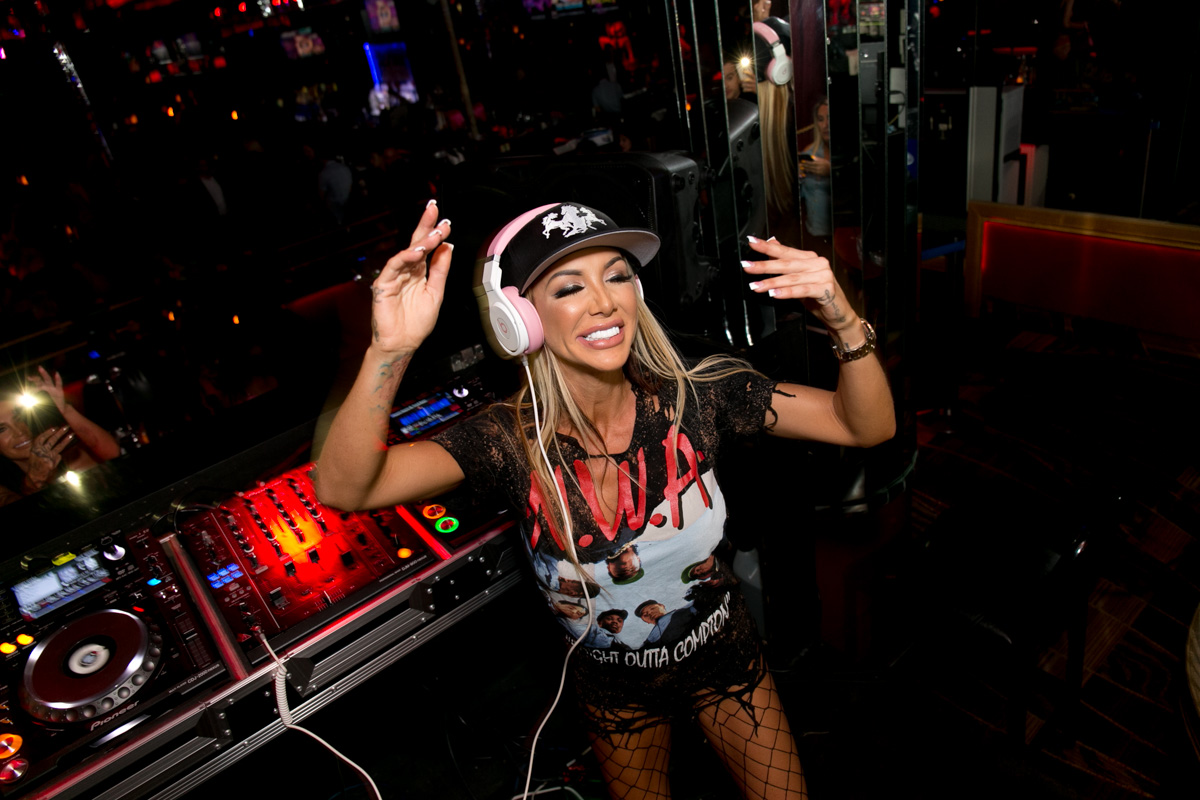 Description: With its warm lighting, cozy leather seats, and decadent interiors, Crazy Horse 3 is a destination that truly reflects the lavish lifestlyle of the Las Vegas Strip, the heart of the Sin City, which is situated just a stone's throw away from this famous club.
With its warm lighting, cozy leather seats, and decadent interiors, Crazy Horse 3 is a destination that truly reflects the lavish lifestlyle of the Las Vegas Strip, the heart of the Sin City, which is situated just a stone's throw away from this famous club.
It's late at night, and the party is just getting started. The DJ is playing a rap track, even as servers go hither and thither, toting magnums of Cristal, plates of nigiri, and boxes of premium, handmade cigars to the patrons.
With beats blaring from the speakers, music videos playing on large HD screens, and fashionably dressed guests enjoying one another's company, the event has all the trappings of swanky night club scene—except that this is more than just a night club. After all, it's a gentleman's club.
On the center stage, 2 beautiful scantily clad girls begin to dance—one a sweet-faced all-American blonde, and the other, a lovely brunette whose supple olive complexion hint of Mediterranean lineage. Outside, another group of men and women is arriving in a limousine, ready to join the night's festivities. Word from the grapevine is that a Hollywood celebrity is also scheduled to make an appearance later in the evening, sending the crowd abuzz with anticipation.
Crazy Horse 3 is Celebrity Party Central
"This is a fantastic place," says Rupert, who's visiting from England with a buddy from nearby Green Valley. The girls are wicked hot, the music is exceptional, and the service is 5-star. There's simply nothing more you could ask for," he adds.
Another guest, Emily, who's coming in fresh into the public relations sector, says Crazy Horse 3 parties are an epitome of what it is to have a good time in Las Vegas. "The crowd here is great, and I'm loving the fact that you don't have to be a dude to enjoy this place. If you want to party Vegas-style, this is the place to be" she says.
Indeed, Crazy Horse 3 is a gentlemen's club that's not only popular for its top-notch topless performances but also for its thriving party scene—one that attracts celebrities of all kinds. In fact, the club is consistently frequented by movie and TV stars, famous musicians and DJs, top athletes, and popular names in the adult entertainment industry.
In February 2017, for instance, hotel heiress, socialite, and TV star Paris Hilton partied at the club while in town for the Super Bowl 51. During the same evening, Swedish DJ and record producer Alesso and celebrity blogger Nik Richie (not Nicole) were also spotted.
This wasn't Paris' first time in Crazy Horse 3, either, because she also spent a night there nearly 2 years back in March 2015, when she and her friends headed to the club after holding a bachelorette party for her cousin, Brooke Brinson. Interestingly, the friends had come to party amidst Crazy Horse 3's lovely female dancers after spending the earlier part of the evening at a Vegas hotel watching the bump-and-grind dance numbers of an Australian male dance troupe.
In January 2017, model and entrepreneur Blac Chyna was also seen hanging out at Crazy Horse 3 with French Montana, hip hop artist and Khloe Kardashian's erstwhile lover. The pair were in Vegas to do a series of club appearances, the first for Blac Chyna after giving birth to baby Dream, her child with Rob Kardashian.
But aside from groups of friends and pairs who are just "friends-friends," Crazy Horse 3 is also popular even among actual celebrity couples who just want to enjoy their time together. Way back in September 2013, for instance, reality TV star Spencer Pratt celebrated his 30th birthday at the club by watching his spouse Heidi Montag emerge from a giant cake mockup. Known among their fans as "Speidi," the couple were co-stars in the American reality series The Hills. They tied the knot in April 2009.
Why Crazy Horse 3 is One of the Best Places to Party in Vegas
Without a doubt, Crazy Horse 3 is one of the hottest places to see and be seen in Vegas today. Its weekly bacchanalias are legendary, consistently making a splash on the pages of society magazines and celebrity blogs. But what makes it so popular among celebrities and non-celebs alike? Here are some of the reasons why:
Classy Atmosphere
Crazy Horse 3 is not a place to be seen in flip-flops, sandals, shorts, oversized jerseys, baggy pants, tattered jeans, or raggedy shirts. Here, guests are required to wear only upscale or fashionable attire. Neither is the club a place to swig booze non-stop 'til you're throwing up all over the floor and brandishing a hostile attitude to boot. Do so, and you'll be promptly ejected. Crazy Horse 3 distinguishes itself as a refined club, a quality that is reflected in its elegant interiors, tasteful décor, and luxurious VIP amenities. The dress code and venue security measures are implemented strictly to ensure that things are kept classy—the way they should be.
Amazing Amenities
Crazy Horse 3 has everything you need for an awesome night out with your friends. Our facility comprises several areas that you can visit any time of the day, including the VIP room with private suites, the expansive main room, or the new 3,500-square-foot expansion that has its own private bar. The main room boasts a 50-foot bar and large plasma HD screens where you can catch the latest games. The screens can also be synced to our state-of-the-art sound system such that they play music videos while the DJ plays the same songs live. If you want to know how cool our audiovisual facilities are, just ask dancer and musician Kevin Federline—Britney Spears' ex-husband—who took over the DJ booth to play a live set when he and his wife Victoria hosted a fantasy football draft at Crazy Horse 3 back in August 2015.
It's Not Just for Gents
Crazy Horse 3 may be a popular gentleman's club, but our target market is not solely men who are looking to
spend a great night in Vegas. As you already know, the club is also well-known in the party circuit. In fact, it has been visited by numerous party-fueled female celebrities other than Paris Hilton. These include Orange is the New Black actress Ruby Rose, who partied at the club with her friends one early morning in August 2015 following one of her DJ sets. Former Baywatch star Carmen Electra, reality TV star Drita D'Avanzo, and former UFC octagon girl Amber Nichole Miller were also seen partying at Crazy Horse earlier in January that year.
It's for All Types of Parties (Almost)
For years, we've hosted not just your garden variety guys' nights out. We're also a prime venue for bachelor parties, bachelorette parties, romantic couples' nights out, post-convention gatherings, and even break-up and divorce parties. In fact, in June 2015, former NBA star Lamar Odom even celebrated the end of his marriage with Khloe Kardashian by throwing a wild break-up bash at the club! In May 2017, reality TV star Courtney Stodden did the same thing, hosting a party with cakes and lap dances to celebrate her divorce with Lost actor Doug Hutchinson.
Convenient Location
Crazy Horse 3 is smack in the middle of everything that's worth visiting in Las Vegas. Located just west of Mandalay Bay and Bali Hai Golf Club, our club is close to the most luxurious hotels, casinos, pubs, pool clubs, spas, and everything else, making it easy for you to hop from one destination to the next. And if you're coming from one of the hotels on the Las Vegas Strip to attend a nighttime party at our club, you can get a limo and enjoy an awesome drive along this historic and scenic route.
The Best Oral Treats
By oral treats, we mean our culinary delights. Aside from bar favorites like fries, calamari, egg rolls, hot wings, and pizza, Crazy Horse 3 also offers a wide variety of gourmet salads, nigiri, and sushi rolls that are the definition of Japanese-American fusion heaven. In addition, we also have a range of high-end cigars and sumptuous hookah flavors that you can choose from. These crazy good selections are sure to set your party apart from the so-so shindigs that take place in low-end clubs.
Great Tips to Make the Most of Your Crazy Horse 3 Party
Partying at Crazy Horse 3 is a remarkable experience in and of itself, but there are things you can do in order to make your party even more exceptional. Here are a few of them:
Get a Ride Fit for a King (or Queen)
So, you're dressed up to the nines and will be attending a hot, upscale event at Crazy Horse 3. Why settle for a cab ride and pay a cover charge of up to $50 when you can experience an elevated level of service that only a limousine ride can provide? When you request a complimentary limo ride, it comes with free VIP entry and absolutely no cover charge. Because the complimentary limo service are reserved on a first-come, first-served basis, it is recommended that you make a reservation at least 24 hours in advance.
For patrons who prefer to bring their own ride, we also have plenty of parking spaces available. Our valet attendants are also prepared to assist you anytime.
Take Advantage of Our Deals
You can have a crazy good time at Crazy Horse 3 no matter what, but why pay the full price every time you party at our club when you can save big when you book our most popular packages online. You can choose from a variety of packages, whose prices range from $329 to $10,000. There are packages designed for small groups of friends and for those who want to throw a big bash for larger groups of people.
Booking any of the deals entitles you to free premium transportation service going to our club, VIP front of line entry, and free admission into the club. Our most premium deal, the $10,000 Double Eagle Platinum Package, includes VIP room seating, a private host for the entire experience, $5,000 in dance money, a 1.5L magnum of Cristal champagne, and a bottle of Louis XIII cognac.
Get Help from One of Our Professional Planners
Work hard and play hard—that's what they say. But if you've worked hard enough, the last thing you want to do is to go through the hassle of planning for the play hard part of life, right? As such, you would be well advised to get help from one of our professional planners, who can carry the burden of organizing the party for you. This way, all you have to think about is how you can have the best time in Vegas.
Experience the High Rollin' Life at Crazy Horse 3
When it comes to Las Vegas attractions, few experiences offer as much excitement as does partying in a premium gentlemen's club like Crazy Horse 3. Celebrities and non-celebrities—both men and women—love our parties, which lean a little more to the wild side while maintaining an unmistakable sense of class and exclusivity.
If you're hoping to enjoy the ultimate Las Vegas experience, look no further. Crazy Horse 3 is the place to be when you're looking for something unique and something different from the usual night club scene. Whether you're there to see our beautiful girls or to simply have a good time with your buddies, you can count on Crazy Horse 3 to create for you a night to remember.