7 Sexy Reasons Crazy Horse 3 Throws the Best Halloween Party in Las Vegas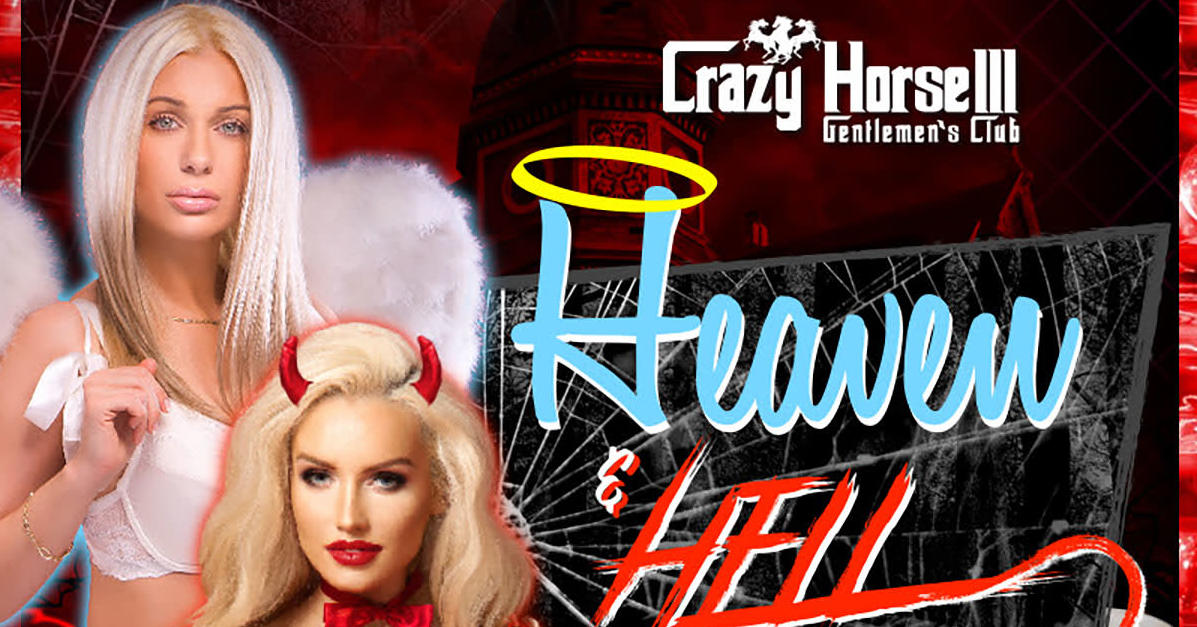 Tags:
Description: If you're in Las Vegas for a Halloween Party, there are many venues to choose. Discover why Crazy Horse 3 is the place to be for Halloween festivities. Hint! Lots of sexy vixens dressed up naughty & nice!
Join Us at Crazy Horse 3 for Our Heaven & Hell Halloween Party Saturday, Oct 27th
We'll be hosting a smashing Halloween Bash Oct 27th with sounds by DJ CLA.
Show off your inner freak with a sexy, naughty, or spooky Halloween costume, as this is a costume party!
For free ride and free entry, call 702.673.1700, or book your package online and save now.
Host a Halloween Party Like No Other at Crazy Horse 3
Before the season of naughty and nice, there's the season of scary and flirty, and you can make sure it's a bangin' good one when you spend Halloween night at the world-famous Crazy Horse 3 Gentlemen's Club in Las Vegas! After all, why spend the evening drinking in a second-rate bar in your hometown or watching some lame fright-night B-movie on Netflix when you and your buddies can instead have the perfect All Hallow's Eve party right in the heart of Sin City?
Las Vegas is the epitome of luxury, excess, and decadence—perfect for the sinful side of yourself that's just waiting for a release! Having your Halloween party at Crazy Horse 3 will make for a truly satisfying Vegas visit, what with our awesome amenities, great food and beverages, and of course, our lovely girls, who absolutely look like they have stepped out of the pages of a celebrity magazine!
In this short guide, we'll fill you in on the details about why you should consider holding your Halloween party in our awesome club.
Crazy Horse 3 Is a Stone's Throw Away from The Strip—Enjoy the Best of Las Vegas after Your Halloween Event
When you choose Crazy Horse 3, you're not just choosing the best gentleman's club in town, you're also bringing your party close to a whole world of fun and entertainment that you can only get when you're right in the center of action in Las Vegas. Our club is very near The Strip, where you and your squad can immerse yourself in some of the finest nightlife, dining, gaming, shopping, and sightseeing experiences the city has to offer.
Visit world-famous gaming resorts like the MGM Grand Las Vegas, The Mirage, Luxor Hotel, The Venetian Las Vegas, Caesar's Palace, Paris Las Vegas, Bellagio, and many others, where you can enjoy a lavish stay in the city and try your luck at some of the best casinos in the world. You can also dine in fabulous restaurants like Joe's Seafood, Grand Luxe Café, Maggiano's Little Italy, and Mon Ami Gabi.
On top of casinos and dining destinations, The Strip also offers a whole host of other attractions, from The Shark Reef Aquarium at Mandalay Bay, to the High Roller observation wheel at the Linq, and many more. We also have T-Mobile Arena, which hosts NHL, boxing, mixed martial arts, as well as concerts and other musical events.
There are a million reasons to visit Las Vegas, but to complete your trip, plan a night at Crazy Horse 3.
Crazy Horse 3 Is Not Just a Strip Club—It's a Legit Party Palace Where You Can Have a Halloween Bash You'll Never Forget
You might ask: why hold my Halloween party in Crazy Horse 3? Shouldn't I have my party in a conventional club or bar instead? Well, not necessarily! You see, Crazy Horse 3 is not just a strip club, it's also a place where some of the most happening parties in the city take place. (Plus for the several grand you'd have to plunk down for bottle service and a table at a major nightclub, you can have much more fun with the CH3 girls!)
In fact, Crazy Horse 3 is frequented by celebrities, who often host their own events in our club. No less than the likes of Snoop Dogg, Paris Hilton, Blac Chyna, and Joanna Krupa have visited Crazy Horse 3 in the past.
We've also hosted numerous NFL fantasy football parties, divorce parties, valentine's dates, anniversary parties, bachelor parties, bachelorette parties, corporate after-events, and many others. And you can be certain your Halloween party will just be as exciting and pleasurable! Our professional party planners can even help you make sure everything goes according to your plan.
Crazy Horse 3 Offers the Best Party Packages—Perfect for Your Halloween Event
Whether you're going to Las Vegas as a party of four à la The Hangover squad or you're hosting a Halloween bash for an even bigger group of friends, Crazy Horse 3 offers the best party packages to afford you and your buddies a crazy good time.
Dubbed "Crazy Deals," our popular club packages will help you save big while still allowing you to have the best night of your life in Las Vegas. Choose the basic $50-per-person package known as The Professional Las Vegas for optimum savings, or spend a little bit more by opting for the $329 Getting Crazy Package, our most popular bottle deal that comes with 1 call brand bottle plus unlimited soda and juice carafes.
For big parties consisting of 10 or more people, the $899 The Three Horses Package is certainly a crowd favorite. However, clients who are out to have the ultimate Halloween event experience of a lifetime should definitely choose the $10,000 Double Eagle Platinum Package, which comes with a bottle of Louis XIII, a bottle of Magnum Cristal, $5,000 worth of dance dollars, and a private host for the entire experience.
Crazy Horse 3 Is Not a Run of the Mill Strip Club—It Has World-Class Amenities, the Best in Las Vegas!
If you think you have no option but to hold your Halloween event in a dumpy bar or sub-par strip club, think again. Spend your well-earned dollars instead on a trip to Las Vegas, and you'll find that there's no better place to have your party than at Crazy Horse 3.
Our club offers the full experience. From the moment you step out of your hotel, you will be treated like a VIP as we shuttle you and your friends off to our club in a private limousine. Simply call us in advance to reserve your complimentary limo ride, and you will never have to worry about taking a cab or an Uber ride to our club.
The club itself is exclusively first class, with clean and modern interiors, plush leather seats, 24 Giant high-definition screens with surround sound, 5 private VIP bars, and premium bottle service. At Crazy Horse 3, a strict dress code is also enforced, ensuring that everyone adheres to the rule of wearing only upscale or fashionable attire. Moreover, we don't tolerate senseless and drunken tomfoolery here. Any riff-raff who causes static will be promptly escorted out.
Crazy Horse 3 Is Home to the Sexiest Halloween Kittens and Bunnies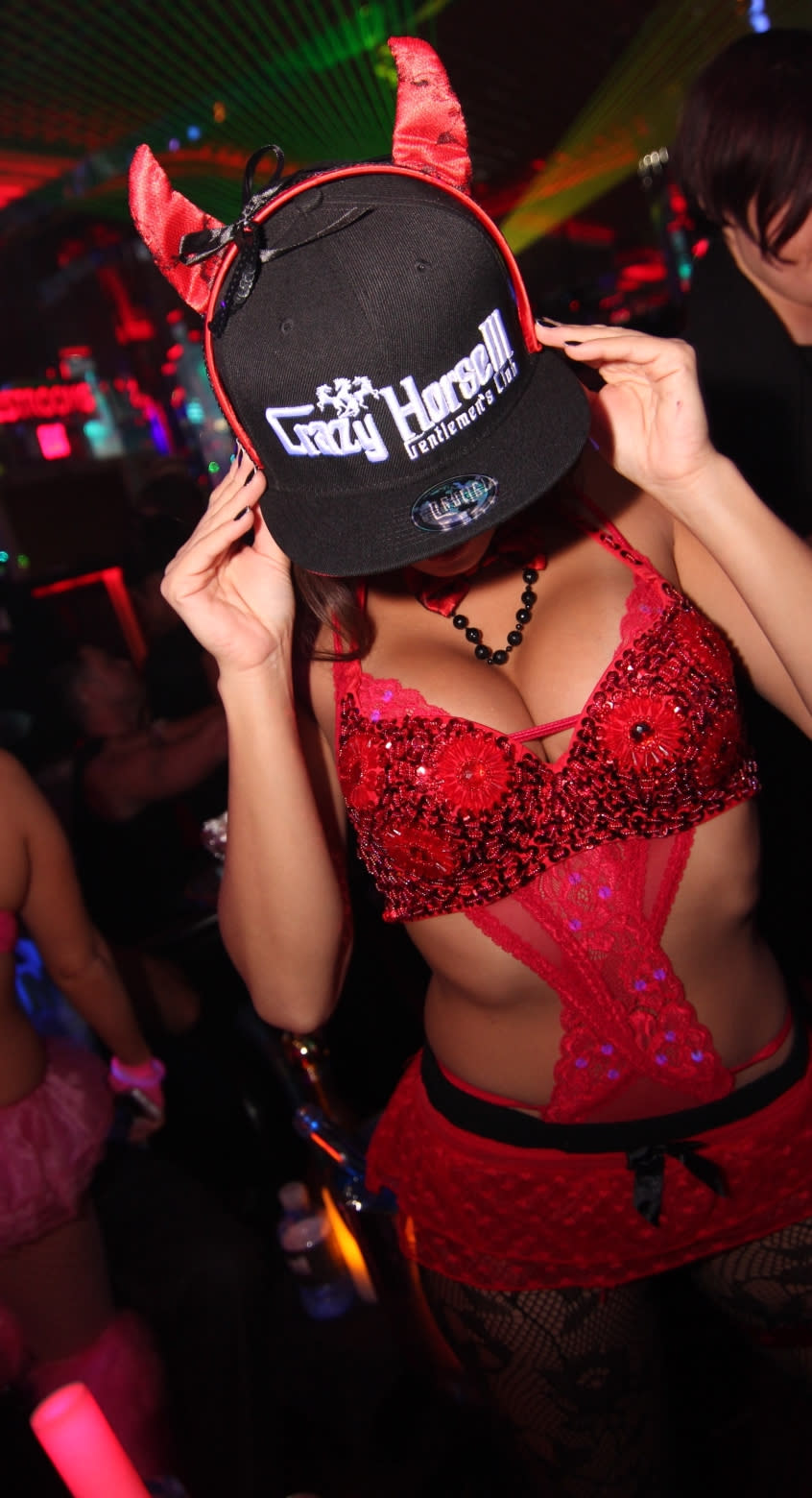 Consistent with the upscale character of our club, our girls are also model- and celebrity-quality in terms of looks, and they are simply to die for! As one of America's premier entertainment capitals, Las Vegas attracts some of the most beautiful women in the country, and naturally, they gravitate toward our equally first-rate club.
Whether your type is an all-American blonde, a Latina bombshell, a petite Asian girl, or a voluptuous black girl, we have them all at Crazy Horse 3, and they are prepared to be your sexy Halloween party companions for the night!
Crazy Horse 3 Has the Best Treats for Your Halloween Party
Crazy Horse 3 is a place where you can enjoy crazy good food, awesome beverages, and an amazing atmosphere all at the same time.
For your Halloween party, we have a wide selection of classic bar favorites to keep your guests fed throughout the night. Enjoy salads and appetizers, pizza, hot wings, burgers, sandwiches, tacos, and much more.
You and your buddies also have the option of enjoying any of our exceptional cigars to keep your party lit throughout the evening. With selections from fine brands like Romeo y Julieta, Montecristo, Macanudo, Excalibur, Ashton, Arturo, Cohiba, and Partagas, your party is sure to have that Mad Men or The Godfather treatment that's perfect for your Halloween event.
Enjoy a Premier Party Experience at Crazy Horse 3
When it comes to Halloween parties, nothing beats a big bash at the Crazy Horse 3 gentlemen's club in Las Vegas. Whether you're planning to host a cool adult costume party or you simply want to spend a great time with some of your closest friends, Crazy Horse 3 simply won't disappoint.